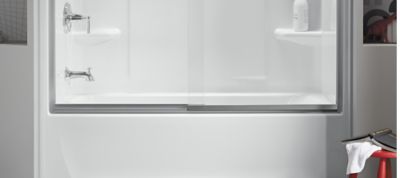 ComforTrack® Technology
More comfortable leaning and cleaning.
ComforTrack Technology
Patented ComforTrack technology is a cushioned shower track that changes the game for bath and shower doors. The durable cushioned track makes it more comfortable when leaning on it while bathing kids or pets or stepping on it when entering or exiting the bath or shower.
Meritor® Frameless Sliding Shower Door
These frameless doors with ComforTrack technology make bathing a child or cleaning more comfortable.
Frameless Sliding Shower Door—Small