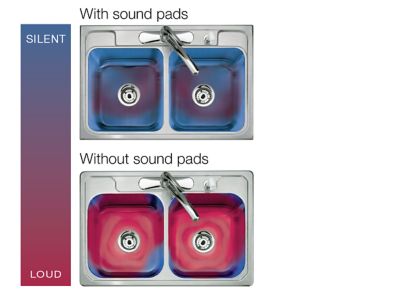 SilentShield
Every STERLING® stainless steel sink is manufactured with our patented SilentShield noise-deadening technology. SilentShield reduces noise from pots, pans, dishes and garbage disposals, so you can enjoy a little more peace and quiet in the kitchen.
The Technology
SilentShield technology uses techniques originally developed for the automotive industry to quiet the engine noise and rattling from cars. Patented sound-absorbing pads reduce the vibrations from silverware, pots and pans and also minimizes the noise from the garbage disposal.
Shop SilentShield Sinks
Ludington Single Basin
The Ludington® kitchen sink gives your kitchen a professional feel with its contemporary design.
McAllister Double Equal
The McAllister® kitchen sink features a classic, pared-down design for a clean look.
Southhaven Double Equal
The Southhaven® kitchen sink brings style to its functionality with stainless steel construction and spacious double bowls.